Tuition and Cost of Living
Tuition, Fees and Financial Assistance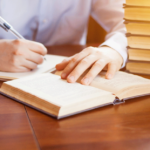 The West Virginia School of Preaching does not charge tuition or fees.  The school provides a laptop computer for students who are in need.  Students are responsible for their own living expenses, books, and miscellaneous materials.
Prospective students should develop a monthly budget reflecting the cost of living expenses, books, and other miscellaneous expenses.  Once the budget has been developed, students should seek financial support from family, friends, home congregations, and other congregations of the Lord's church.  Limited financial support may also be available through the Hillview Terrace church of Christ. 
Each prospective student should submit his budget and sources of support along with his application for enrollment in the school.
The cost of living in Moundsville and the surrounding area is moderate compared with most urban areas. Of course, expenses vary between families and depend largely upon one's selection of a residence.
Students will be expected to purchase their own textbooks.
The West Virginia School of Preaching operates a dorm which may have space available for single students.
We will be glad to assist prospective students on determining a detailed cost of living upon request.
Since the school does not charge tuition or assess fees, a refund policy is not applicable.