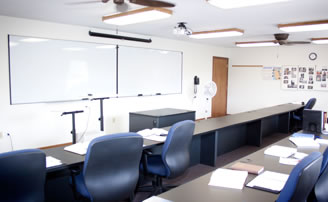 We are fortunate at the West Virginia School of Preaching to have an exceptional faculty and top-notch campus facilities. Our campus consists of the school building, dormitory, and place of worship.
We have recently updated our school building to help cultivate the learning process. With classrooms equipped with comfortable seating, plenty of desktop space, white boards, wireless internet, and projectors there is nothing hindering our students from learning. In addition, our library is more than adequate to supply our students with references and study material to help aid them in their spiritual growth. In addition, we have a resource center that provides our students with lounge seating, wireless printers, and a microfilm machine for late night studying and discussion with peers. A small kitchen equipped with dining wear, refrigerator, and seating is located in the upstairs of our school building to allow our students to prepare meals and eat without having to leave the campus. There is also a fellowship hall located inside the school that offers an exceptional setting for potlucks, orientation, and graduation ceremonies.
Only a few steps away from the school building is the student dormitory. This dormitory is for our single students that desire to live rent-free and stay close to the resources offered at the school building. Our five bedroom, two bathroom dormitory offers everything a student needs for comfortable living while enrolled at the West Virginia School of Preaching. Each bedroom is furnished with a single bed and desk. Other amenities include a dishwasher, laundry room, and all the necessary appliances to prepare meals.
Our place of worship is within walking distance of the school building and the dormitory. Specifically, the Hillview Terrace church of Christ is located on the corner of Fourth Street & Willard Avenue. It is at this location that the students gather together Monday-Friday at 8:30 for chapel service. Chapel service includes songs, prayer, and a lesson from God's Word delivered by students, faculty members, or area ministers. This provides our students with a unique opportunity to gain experience and prepare their minds for the rest of the day.