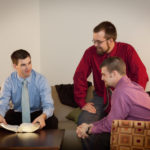 The West Virginia School of Preaching is overjoyed to be able to offer a tuition-free education. However, as we are well aware, there is no such thing as a free lunch. That is why we require our students to submit a reasonable budget, raise the majority of their funds before enrolling, and then make prudent choices to stay within their budgets.
The West Virginia School of Preaching has had tremendous support from area congregations from its beginning, including funds to help support our students as they receive an education. This is extremely important because our full-time students are unable to maintain jobs while they are enrolled at our school and, therefore, need assistance to pay for living expenses.
The WVSOP is willing to help students raise the funds necessary to enroll, but this will only be done after prospective students have identified the level of support their families, friends, and/or local congregations are willing to contribute toward their education. This can be accomplished by sending letters to your potential supporters telling them of your desire to become a student and your financial needs. Prospective students are advised to begin contacting potential supporters well in advance of their intended enrollment dates.
Please Support the Students
Please support the WVSOP in training Gospel Preachers. Any amount
will be greatly appreciated. Thank you.